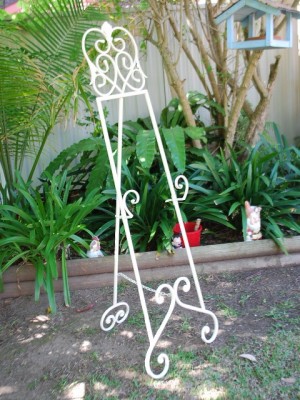 Wedding easel hire
Our wedding easel is an essential component of your wedding, engagement, birthday party or any other formal event. It is an elegant way of displaying photos, artwork or signs.
Features:
Cream colour
Iron wire and tube hand forged and welded
Functional as well as decorative
1.5m tall x 0.50m wide
Adjustable – lower brackets can move up and down to hold photos/artwork/signs of any size
Starting at only $20 for 1-2 day hire, it is great value for an essential part of any formal event.
Wedding easel hire rates: 
| | | | | |
| --- | --- | --- | --- | --- |
| Day/s hire | 1-2 days | 3-4 days | 5-6 days | 7 days |
| Cost (per item) | $20 | $30 | $40 | $50 |
* 7+ days contact us for further discounted rate
If you are looking to hire equipment for your next event, submit an enquiry or online order by clicking here. We look forward to hearing from you!
What our customer's say
Hi guys. Just wanted to say thanks again for your service-it was fantastic. To anyone that is reading this- give budget event hire a call you don't be disappointed!
We would just like to thank you for providing our wedding ceremony chairs. Your service throughout the whole process was wonderful, and the chairs were in perfect condition. The delivery and pick up process was also very smooth (the gentleman who delivered them was great!!) I will definitely be recommending you to anyone who would like to hire equipment for their functions. Once again, thank you very much!
Ordered 6 heaters for my partner's 30th Birthday. Heaters really came in handy, service was great, price was very low and quality of the products were tip top. Will definitely hire from you again!! Awesomeness…
I've hired from another company previously because they were cheap but wasn't happy that we had to clean the chairs and tables before we could use them. I was very happy with the cleanliness, quality and price of the chairs I hired from budget event hire. I will definitely use your company again.
Our event on Saturday 24th May ran very smoothly, and the delivery and pickup was perfect- great service, thank you!
I was very happy with the plastic chairs and delivery and pickup the guys were very pleasant and and obliging. I will recommend you to all my friends. I am very happy for this comment to be put on your website
Guys thank you so much for your OUTSTANDING service. I was panicking when the other guys didn't show up and didn't answer the phone when I tried calling them but thankfully you guys saved the day. You are the BEST! Thank you! Thank you! Thank you!
Just wanted to let you know your chairs and tables made my confined space look very spacious and guests were very comfortably. It did not looked cluttered at all.Definitely will continue to use your service. Your delivery was excellent – delivery and pick up credit to your staff.
Thank you so much for your excellent service. Chairs and tables were delivered spotless for my daughters kitchen tea party. They were delivered and picked up as promised and delivery men were extremely polite. I would be more than happy to recommend your company.
Everything was perfect and the chairs were just beautiful!!!!! The best decoration of the ceremony.