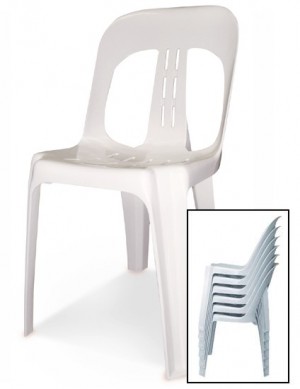 Contact us for party chair hire in Sydney at unbeatable rates!
It's not hard to see why our White Barrel Plastic Stacking Chairs are the best plastic chairs out there – they are light, extremely comfortable, durable and great value. If you are looking for chairs for hire in Sydney that are affordable and high quality, you've come to the right place.
Features:
Extremely comfortable
Light (2.29kg) yet strong
Height 800mm – Seat Height 430mm
Width 450mm
Depth 505mm
Our white barrel plastic chairs are great value at $1.50 (online booking price only) for the first day and cheaper if you want it for more than one day.
| | | | | |
| --- | --- | --- | --- | --- |
| Day/s hire | 1-2 days | 3-4 days | 5-6 days | 7 days |
| Cost (per item) | $1.50 | $2.50 | $3.50 | $4.50 |
* 7+ days contact us for further discounted rate
We also have white fitted chair covers that will give the chairs an elegant look for your formal event.These covers are made from a premium polyester fabric which is easy to keep neat and tidy in preparation for the event, and are equally great value at as little as $3 for 1-2 days. Gorgeous coloured sashes, perfect to draw the chairs into your overall outdoor decor scheme, are available for an extra $1 per sash.
If you are looking to hire chairs in Sydney for your next event, submit an enquiry or online order by clicking here. We look forward to hearing from you!
What our customer's say
Dear Budget Event Hire I have already recommended you to other friends – that's how great the service and quality was! Can't thank you enough for making the hiring of chairs and tables the least stressful thing I had to organise for the party. Best Regards
I hired some tables and chairs for my childrens christening and couldnt be happier with not only the quality of the products but also the service I recieved. I am now back to use their services again!
Called these guys for some equipment for my wifes birthday. Prices were great, delivery charges are cheaper than anyone else and they picked up the stuff from my place even when I wasn't home. Thumbs up!
Very happy with the chairs i hired for our wedding. The folding chairs looked beautiful and your plastic chairs were so clean. I was so relieved as i have heard horror stories from my friends who have used another company for chair hire and weren't happy with the quality. Thanks heaps.
Just wanted to let you know your chairs and tables made my confined space look very spacious and guests were very comfortably. It did not looked cluttered at all.Definitely will continue to use your service. Your delivery was excellent – delivery and pick up credit to your staff.
Everything was perfect and the chairs were just beautiful!!!!! The best decoration of the ceremony.
I've hired from another company previously because they were cheap but wasn't happy that we had to clean the chairs and tables before we could use them. I was very happy with the cleanliness, quality and price of the chairs I hired from budget event hire. I will definitely use your company again.
Our event on Saturday 24th May ran very smoothly, and the delivery and pickup was perfect- great service, thank you!
Guys thank you so much for your OUTSTANDING service. I was panicking when the other guys didn't show up and didn't answer the phone when I tried calling them but thankfully you guys saved the day. You are the BEST! Thank you! Thank you! Thank you!
I was very happy with the plastic chairs and delivery and pickup the guys were very pleasant and and obliging. I will recommend you to all my friends. I am very happy for this comment to be put on your website