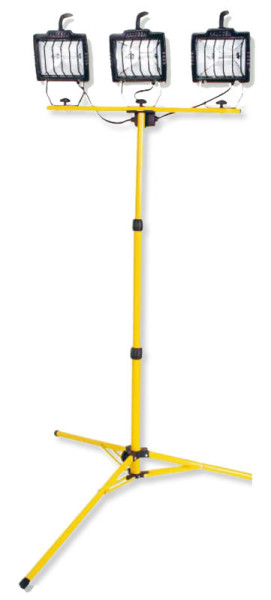 Outdoor party lights for hire
Our 3 x 500W Portable Outdoor Lights will definitely light up your next event.
Features:
3 x Quartz Halogen Worklight lamps
Individual lamp control (can switch off individual lamps if not required)
Safety guard on each lamp
Tripod to allow height to be adjusted
Our portable outdoor lights are great value at $10 for the first day and cheaper if you want it for more than one day.
| | | | | |
| --- | --- | --- | --- | --- |
| Day/s hire | 1-2 days | 3-4 days | 5-6 days | 7 days |
| Cost (per item) | $10 | $14 | $18 | $20 |
10m extension cord is also available for hire at $5/day
* 7+ days contact us for further discounted rate
If you are looking to hire equipment for your next event, submit an enquiry or online order by clicking here. We look forward to hearing from you!
What our customer's say
Just wanted to say a huge thank you to you and your team. Your excellent service, promptness, professionalism and great product helped us run our event smoothly and successfully. We had a great day on Saturday and will definitely be using your service again!
Dear Budget Event Hire I have already recommended you to other friends – that's how great the service and quality was! Can't thank you enough for making the hiring of chairs and tables the least stressful thing I had to organise for the party. Best Regards
The cleanest products and friendliest service i have ever come across from a party hire place. Thanks guys.
Everything was perfect and the chairs were just beautiful!!!!! The best decoration of the ceremony.
Just wanted to say a big thank you for your chair delivery and for

providing us a hassle free service =)

Very professional and friendly service. Thanks again!
Bek & Matt
Auburn Botanical Gardens
You guys were more then we expected, thankyou again we were extremely pleased with how clean your tables and chairs were, will definitely be recommending you to family and friends. Couldn't be more satisfied, thanks again guys.
Ordered 6 heaters for my partner's 30th Birthday. Heaters really came in handy, service was great, price was very low and quality of the products were tip top. Will definitely hire from you again!! Awesomeness…
We would just like to thank you for providing our wedding ceremony chairs. Your service throughout the whole process was wonderful, and the chairs were in perfect condition. The delivery and pick up process was also very smooth (the gentleman who delivered them was great!!) I will definitely be recommending you to anyone who would like to hire equipment for their functions. Once again, thank you very much!
I hired some tables and chairs for my childrens christening and couldnt be happier with not only the quality of the products but also the service I recieved. I am now back to use their services again!
Called these guys for some equipment for my wifes birthday. Prices were great, delivery charges are cheaper than anyone else and they picked up the stuff from my place even when I wasn't home. Thumbs up!